Description
This charger is a four-port fast charger that charges 12V MAX* and 20V MAX* batteries at the same time. This fast charger quickly charges a 4.0Ah 20V MAX* battery in 40 minutes, and a 6.0Ah 20V MAX* battery in 60 minutes. It is also designed to fit our Tool Connect™ Tag, and is ToughSystem™ compatible.
FEATURES & SPECS
FEATURES
Simultaneous Charger: All Ports Charge At The Same Time
Charges 12V MAX*, 20V MAX*, and FLEXVOLT® 20V/60V MAX* Batteries
8 Amps Output Per Port (simultaneously)
Charges (4) DCB204 battery in 40 mins
Charges (4) DCB606 battery in 60 mins
Thru-Hole Wall Mounts
Cord Wraps
ToolConnect™ Tag Ready
Side Brackets To Mount Onto The ToughSystem™ Rails
SPECIFICATIONS
PORTS

 

MULTI

SYSTEM

 

20V MAX* , 12V MAX*
INCLUDES
Payment & Security
Your payment information is processed securely. We do not store credit card details nor have access to your credit card information.
Customer Reviews
01/12/2022
Terry J.

Canada
So far, so good.
I bought two 2ah batteries from Wisetools a week earlier. I decided to wait for my DCB 104 to show so I could charge them up. Plus a 5ah battery, which they all had one bar. I love the fact that it mounts to my Tough System 1.0. It had a little louder fans than I thought. But it charged all three batteries faster than using my DCB 115 single charger.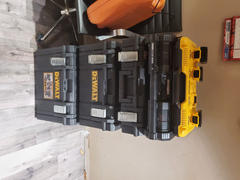 05/05/2021
John V.

Canada
Excellent
Excellent product, no issues
01/01/2020
Devon C.

Canada
Great charger
Had 4 of my 5 amp 20V batteries on it at the same time and all were charged within 45 minutes without blowing any breakers. Outlet also had a chest freezer plugged into it. Got for free because of Wise Line Tools crazy bundle sales.